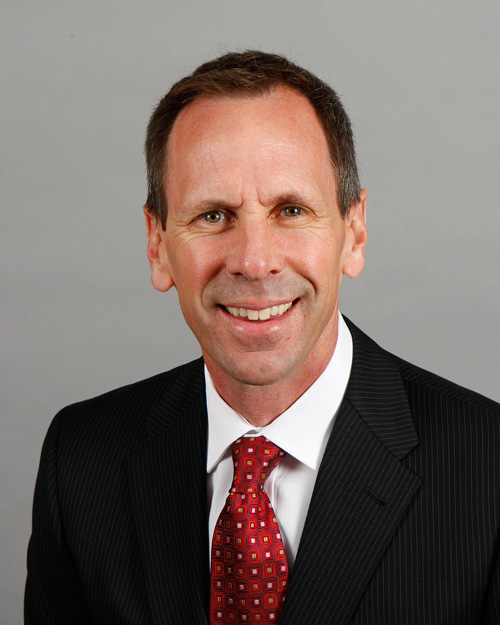 Tommy Connor
Associate Head Coach
Associate head coach is in the seventh year of his second stint on the Utah staff. Four-year starter for the Runnin' Utes at point guard (1986-88, '90). After graduating in exercise and sport science, spent three years as a graduate assistant and another four years as an assistant coach under the late Rick Majerus. Helped guide Utah to the NCAA Sweet Sixteen and Elite Eight as well as the NIT "Final Four," while capturing four Western Athletic Conference championships. Prior to returning to Utah, had a stellar 12-year head coaching career at Westminster College. Led the Griffins' reinstated program to a 264-114 (.698) overall record, nine NAIA National Championship appearances and seven Frontier Conference regular-season titles. Wife Kathryn. Son Jake, who will suit up for the Utes this season, as well as two daughters, Sydney and Cass.
DeMarlo Slocum
Assistant Coach
Seventh year with the Utes, working primarily with the guards and sharing recruiting responsibilities. Before Utah, was a three-year assistant at Colorado State. Also served as an assistant coach at Idaho and head coach of the Las Vegas Prospects AAU team for five years. The Prospects were ranked among the top five AAU teams on the West Coast. Has worked at various collegiate basketball development camps across America, as well as the West Coast All-Star Camp and the Adidas Superstar Camp. The Las Vegas native served one season as an assistant coach at Dixie State College before moving on to the University of Southern California to become the Trojans' director of basketball operations. Played two years at Dixie State before finishing his career at Georgia Southern, where he earned a degree in public recreation/kinesiology. Master's in Educational Leadership from Grand Canyon University in 2016.
Andy Hill
Assistant Coach
Seventh year with the Utes. Spent the previous seven years as an assistant at Montana, including two seasons under current Runnin' Ute head coach Larry Krystkowiak. Helped Coach K. lead the Grizzlies to a 42-20 record and two NCAA Tournament berths, advancing to the second round (now third round) in 2006. Montana made three NCAA Tournament appearances overall during his tenure, earned a CBI bid in 2011, and reached the Big Sky Tournament championship game four times. Graduate assistant coach at Eastern Washington in 2003-04 as the Eagles won the Big Sky. Spent the two previous years as an assistant at Lewis-Clark State College. Graduated from Eastern Washington in 2000 with an education degree. Married to Skye Lazaro. Son Garrett.